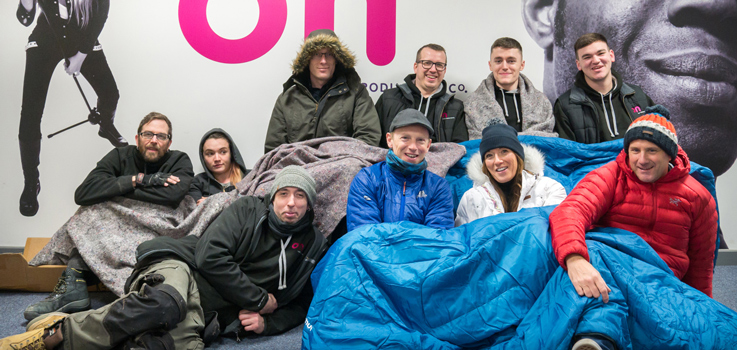 12/02/18
Sleep Easy 2018 Charity Challenge
Team from On hoping to 'Sleep Easy' as they brave the elements during charity challenge.
A team of directors and staff from On Event Production Co. are set to brave the elements while sleeping rough for one night in March to raise money and awareness for a charity which helps the homeless.
The team of eleven will be taking part in YMCA Derbyshire's Sleep Easy 2018 challenge, which will see them spend a night under the stars, in cardboard boxes, in support of YMCA Derbyshire.
All the money raised will go directly to the charity's Safe Front Door campaign, which enables YMCA Derbyshire to continue providing safe accommodation, opportunities for young people to engage in positive activities, work experience and volunteer opportunities and gain business mentors.
Sleep Easy is an annual event and takes place at the Derbyshire County Cricket Club on 9 March. Last year's event saw 115 volunteers take part, enabling the charity to provide 151 beds each night, accommodate 317 people and continue to support residents and young people in need of its services to rebuild their lives and help eliminate youth homelessness.
On Event Production Co., which is based in Castle Donington, delivers production services for business events, conferences, brand and product launches, and live music events on behalf of a wide range of British and global brands.
Its Sleep Easy Team comprises Managing Director Guy Eaton, Operations Director Paul White, Director Ann Kerwood, Production Manager Anabelle Parslow, Draftsman Ben Dorrington, Production Engineer Jake Roberts, Warehouse Management and staff Iain Hunt, Matt Sudbury and Danny Melbourne, and Fabricators Jethro Sigley and Sean Inger. They hope to raise a combined total in excess of £2,500 for the charity.
Guy said: "As a socially-responsible company that's proud of its Derbyshire roots, we believe strongly in giving something back to our community, which is why we are doing this challenge.
"YMCA Derbyshire does such vital work with vulnerable young adults in the city and across the county and is a cause that is close to all our hearts here at On.
"One night's cold and discomfort is nothing compared to the things that some of the people the charity works with have to face, so braving the elements is a small price to pay for helping to helping to raise money and awareness of the charity and the fantastic work it does."
You can support the team by donating via its online fundraising page,
https://mydonate.bt.com/teams/on-productions.
Get in touch