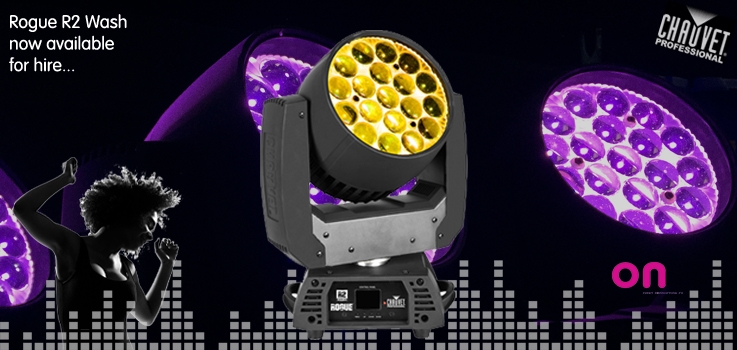 10/08/15
Rogue R2 LED Wash now available to hire
The Chauvet Rogue R2 LED Wash moving heads are now available for hire from On Event Production Co.
Here at On we are constantly seeking to update our fleet of rental equipment, to ensure we offer our clients the highest levels of service and are currently investing £340,000 in the latest technical equipment. As part of our current investment we have added 28 Chauvet Rogue R2 LED Wash lights to our fleet of moving lights.
Commenting on this recent investment in the Rogue R2 Wash, hire manager, James Pemblington commented:
"We spent a lot of time thinking about what fixtures will work with our current events schedule as well as being flexible to adapt to the next project.
James added:
"The Rogue R2 LED Wash stood out as the fixture for us; Its output is incredible and the pixel control makes the Rogue R2 Wash ideal for eye candy on stage and the zoom ranges enables just a few units to cover a huge area. The Rogue R2 LED Wash units are packed full of features and have a tiny footprint. They're also lightweight which means our crew are happy and trucking costs are lowered too."
Since these new units landed at On back in July, they've been busy out on hire and their very first outing was on the main stage at this year's Splendour Festival in Nottingham where 'The Specials' headlined.
The new Rogue R2 Wash lights will likely be used across a wide range of events by On Event Production Co. as operations director, Paul White, explains:
"They are small, lightweight and so versatile that I can see these being used on a huge range of shows from small corporate shows as some eye candy, festivals when you need some punchy colours and award shows when you require the room to burst into life for each sting then move back to washing the whole stage."
Chauvet's Rogue R2 Wash Promo Video...
Want to know more? Click here to see our Rental rates for the Rogue R2 Wash.
Would you like to hire the Chauvet Rogue R2 Wash ?.. Well they're now available to hire from On Event Production Co. so give us a call.
Get in touch