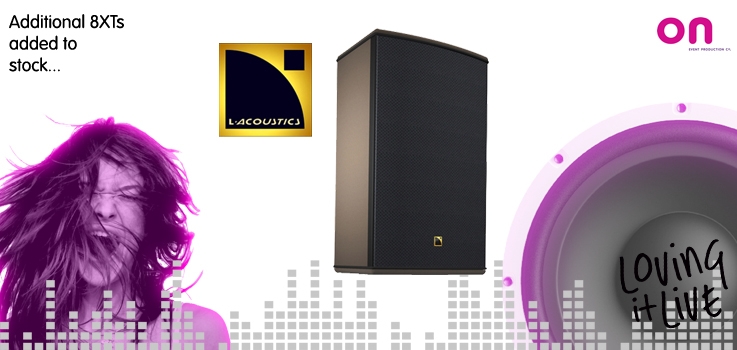 20/08/15
On stocks up with more L-Acoustics 8XT
On Event Production Co. stocks up with more L-Acoustics 8XT coaxial speakers.
Further to On's investment into the L-Acoustics coaxial and ARCS WIDE ranges back in 2013 there's been a constant and growing need for the 8XT and 12XT coaxial speakers. On have added to their stock of speakers and accessories since their initial investment into L-Acoustics and again this summer invest further with the purchase of an additional eight L-Acoustics 8XT speakers, with K&M 214/6 tripod stands and K&M 26735 round base speakers stands to suit.
James Pemblington, hire manager at On, commented:
"The L-Acoustics 8XT is a fantastic multifunctional speaker delivering high-quality audio in a compact cabinet, ideal for corporate events. It's great to be getting more 8XT's in our hire stock."
On's 8XT's can be supplied with U-frames for rigging or speaker stands to allow them to be either flown or pole mounted. Take a look at the L-Acoustics 8XT product info webpage to find out more.
On Event Production Co. are one of the leading creative and technical event production companies in the UK. We are constantly inventive with unique in-house event capabilities that enable us to create stunning private, corporate & live events.
Go On.. Get in touch..
Get in touch