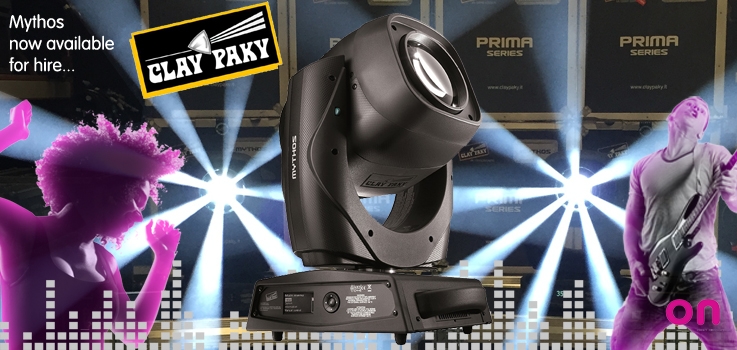 14/07/15
Clay Paky Mythos now available to hire
The Clay Paky Mythos advanced hybrid lighting fixtures have now landed here at On Event Production Co. and are available to hire.
Here at On we are constantly seeking to update our fleet of rental equipment, to ensure we offer our clients the highest levels of service and are currently investing £340,000 in the latest technical equipment. As part of our current investment we have added 16 Clay Paky Mythos fixtures to our hire stock.
The Mythos fixtures are fresh in from the Eurovision and are packed full of features that make these units usable in a number of situations. When in beam mode the fixture produces an amazing 2.5° 'pipe' effect. The optics on this unit enable a gobo to be in focus along the entire length of the beam. With two indexable rotating prisms and an advanced visual effect disc it's easy to see why the Clay Paky Mythos has won so many awards.
Commenting on the new lighting equipment, operations director at On, Paul White said:
"Our investment in the Clay Paky Mythos advanced hybrid fixtures will top up our lighting stock and keep our lighting inventory right up to date with the leading edge of lighting technology from Clay Paky's new 'Projectors' range.
"The Mythos is a fantastic fixture packed full of features and is very versatile. It has a very wide zoom range and will be great for washes, effects and beams enabling us to utilise these units across a wide range of live events."
Want to know more? Click here to see our Rental rates for the Mythos.
Would you like to hire the Clay Paky Mythos?.. Well they're now in stock here at On Event Production Co. so give us a call.
Get in touch